Yesterday I was in the shocking position of having no leftovers to eat for my workday lunch. This is kind of a big deal, because it's the first time this has happened in almost a year. Even before Jeffrey took over a lot of the cooking, we spent our weekends making big batch meals, so that we could freeze individual servings for lunch. Jeffrey doesn't get much of a lunch break, and I hate traipsing all over creation at lunchtime, which is my reading time.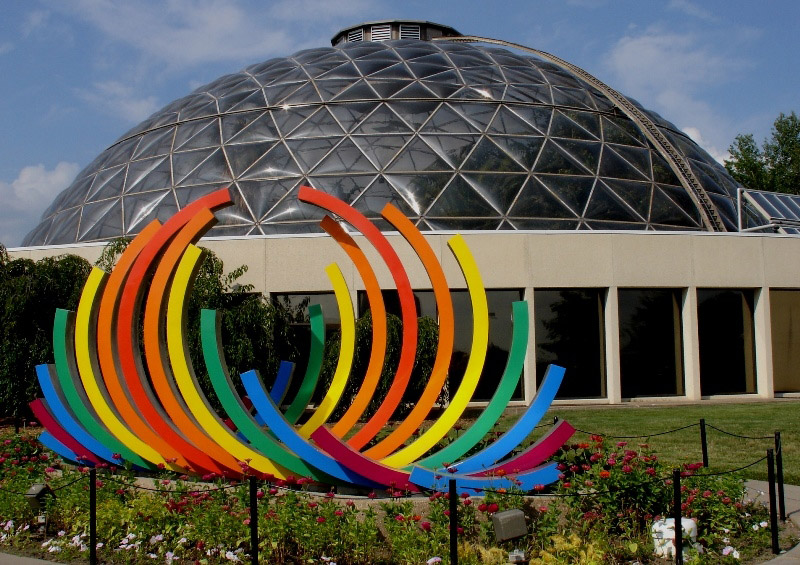 The
Riverwalk Cafe
at the Des Moines Botanical Center is fairly close to my office, so I moseyed on over. The river walk trail is just beautiful, and I'm always surprised more people aren't out strolling along the beautifully landscaped trails and the hidden gem of the riverwalk, the Robert D. Ray Asian Gardens.
I like the Riverwalk Cafe. It's always nice to see all the flowers at the Botanical Center, and the cafe is usually quiet, which is something pretty unusual for a downtown lunch spot. That's another one of the reasons I don't usually like going out for lunch, other than the usual time-crunch. I hate noisy places. It's not restful, and if I'm going to go to the expense of eating out, I want to come back to work feeling refreshed, not frazzled.
I decided to order something new that sounded interesting: Mango Chicken Salad. I pictured a creamy chicken salad with apple, celery, walnut, and sweet bites of mango. I was surprised to get what amounted to a chicken taco filling atop salad greens. It wasn't bad, just unexpected. I think the description should have read Mango SALSA chicken salad, served over mixed greens. It was interesting, but pretty much the opposite of what I'd wanted!
I also got a cup of the Cafe's excellent cream cheese potato soup, which comes with Hidden Valley style oyster crackers. That's a long-time favorite of mine. So, on the rating scale, the meal probably rated a 4 minus. Good food, but I wish their menu descriptions were a bit more accurate.
The Riverwalk Cafe is open for lunch from 11 AM to 2 PM Monday through Saturday. Well worth checking out, especially if you have a little extra time to enjoy the gardens.